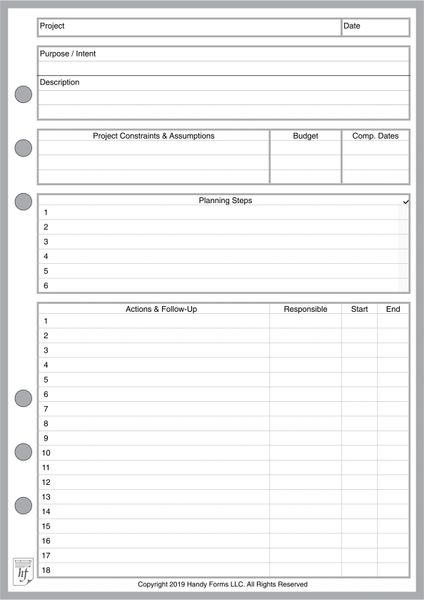 A5 Project Planner
This is a helpful Project Planner and Organizer for A5 size notebooks. This handy form is ideal to help plan and manage projects., and includes the project name and description, purpose/intent, project constraints, budget, planning steps, and actions / follow-up. The back of the form includes project milestones. There are 50 sheets. The pages are true A5 size 148mm x 210mm (5.8" x 8.3").
Project planner and manager for the popular European A5 size notebooks by FiloFax and others.
Records project name, description, purpose, constraints, budget, completion dates, planning steps, actions & follow-up activities including who is responsible, plus the start and end dates, project milestones with responsibility, plus planned and actual completion dates.
Punched with 6 holes to fit the A5 size notebooks with rings spaced 19-19-70-19-19mm.
Includes 50 sheets.
Page size is 5.8" x 8.2". Printed on very high quality heavy weight paper (120 gsm), made from FSC certified forests with a silky smooth writing surface.