A6 Monthly Planner, 4 Pages per Month, No Lines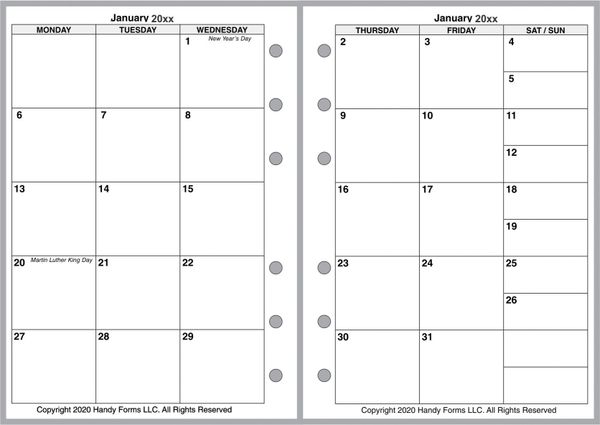 A6 Monthly Planner, 4 Pages per Month, No Lines
PLEASE NOTE: THERE ARE 2 STANDARDS FOR A6 HOLE SPACING. PLEASE CHECK THE DISTANCE BETWEEN THE 2 GROUPS OF 3 RINGS IN YOUR BINDER. IT WILL BE EITHER 38 mm (1-1/2") OR 51 mm (2"). CHECK THE APPROPRIATE OPTION WHEN ORDERING.
This is a complete monthly planner insert for A6 size notebooks. The page size is 4.13" x 5.83" (105mm x 148mm). Months are separated so that you may insert additional pages for notes, etc, between months. It is fully dated. Each month begins with a planning page for notes and also includes the current month calendar plus the coming 2 months. The monthly spread provides 2 pages per month and includes US Holidays and observances. Week start option for Sunday or Monday. For the Monday start option with the 6 column month, Saturday and Sunday are combined in the right-hand column. For the 8 column option,  each day has its own column and the right hand column is for notes. The last page of each month provides space for monthly tasks and follow-up / to-do notations with a check-off column. Tabs are included for each month. Also included are yearly calendars for current year and next year.
Compact size monthly planner fully dated. Includes lines for writing. Includes yearly calendars for current and next year.




2 pages per month monthly planner with tabs




First page of each month is for Notes and Plans, and includes the current plus 2 additional months mini calendars. The next 2 pages are the monthly spread.




The last page of each month is for a Task List and Follow-Up notes, and includes a check-off column for completed tasks.




Page size is 4.13" x 5.83" (105mm x 148mm). High quality, heavy weight, ultra smooth paper. Acid-free. Paper produced from FSC certified forests.




Punched with 2 groups of 3 holes spaced 3/4" (19mm) with 1 1/2" (38mm) between the groups to fit A6 size binders.