PW Automobile Fuel & Maintenance Log - Personal Wide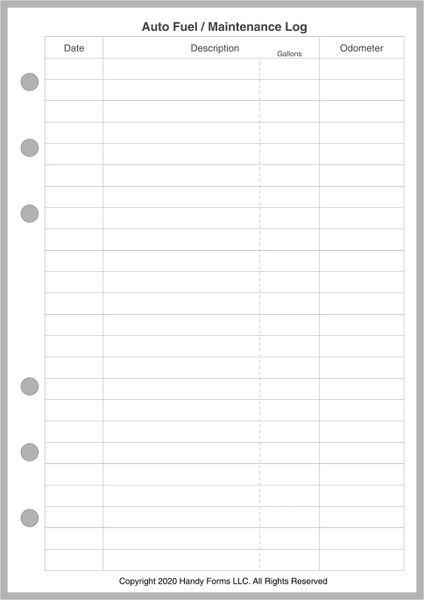 PW Automobile Fuel & Maintenance Log - Personal Wide
If you like to keep track of your car's fuel, maintenance, and mileage, this planner insert is just the thing. It is sized and punched for Personal Wide binders. Record the date, description, and odometer reading for any maintenance, new tires, changes, etc. For fuel, write down the date, number of gallons, and the odo reading. In the description area you can keep track of the price per gallon. The back of each page is lined for keeping notes.
Auto Fuel / Maintenance Record for Personal Wide notebooks.




The back of each page is lined for notes.




Punched with 2 groups of 3 holes spaced 3/4" (19mm) with 2" (51mm) between the groups to fit the Franklin Covey Compact notebook.




50 sheets per pack




Page size is 4.75" x 6.75". Printed on very high quality heavy weight paper (120 gsm), with a silky smooth writing surface. Acid-free, archival quality paper, produced from FSC certified forests.