A6 Monthly Planner, 2 Pages per Month, With Lines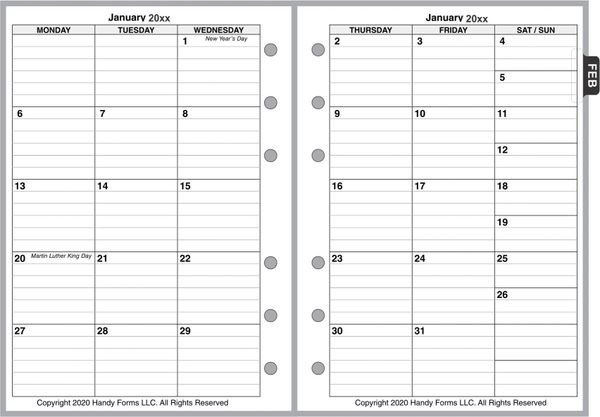 A6 Monthly Planner, 2 Pages per Month, With Lines
PLEASE NOTE: THIS IS THE EUROPEAN ISO STANDARD A6 SIZE. THIS WILL NOT FIT CHINESE A6 BINDERS, COMMONLY SOLD ON AMAZON. THE SPACING BETWEEN THE CENTER HOLES IS 1-1/2" (38mm). PLEASE VERIFY THE SPACING IN YOUR BINDER. IF YOUR BINDER'S SPACING IS 2" (51mm), THEN YOU HAVE THE CHINESE VERSION. OUR PERSONAL SIZE INSERTS WILL FIT YOUR BINDER.
This is a complete monthly planner insert for the A6 size notebook. The page size is 4.13" x 5.83" (105mm x 148mm). It is fully dated. Week starts on Sunday or Monday depending on the option chosen. There are lines for writing in the daily blocks. There are 2 different layouts available (please see illustrations above):
    6-Column: Monday-Wednesday are on the left, and Thursday-Sunday are on the right, with Saturday and Sunday sharing the right-most column.
    8-Column: Each day has its own column. There are 5 rows for weeks, so the possible Sunday or Monday extending beyond the 5th week share the blocks of the first day or two of the previous week.
The monthly spreads provide 2 pages per month and include US Holidays and observances. Tabs are included for each month. Also included are yearly calendars for the current and following year.
A6 size monthly planner fully dated. No lines.




2 pages per month monthly planner with tabs




Includes yearly calendars for current year and next year.




Page size is 4.13" x 5.83" (105mm x 148mm). High quality, heavy weight, ultra smooth paper. Acid-free. Paper produced from FSC certified forests.




Punched with 2 groups of 3 holes spaced 3/4" (19mm) with 1 1/2" (38mm) between the groups to fit A6 size binders.