FCC Daily and Monthly Planner, 2 Pages per Day, 2 Pages per Month, Style B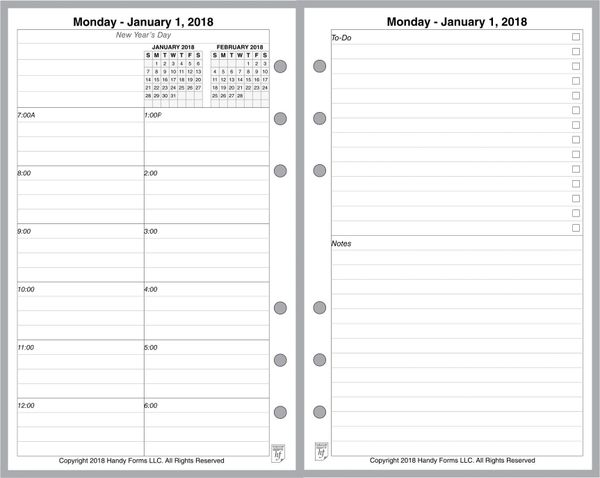 FCC Daily and Monthly Planner, 2 Pages per Day, 2 Pages per Month, Style B
This is a complete 2 page per day planner insert for the popular Franklin Covey Compact notebook and others. The page size is 4.25" x 6.75". Each month begins with a page for "Plans and Priorities" followed by that month's 2 page spread. Following that are 2 page per day spreads for each day in the month. The left-hand page for each day includes appointment blocks for 7:00am through 6:00pm, plus mini-monthly calendars for the current and following month. The right-hand page for each day provides a To-Do list and a Notes section. The content of the daily pages can be customized. Monthly and daily pages include US Holidays and observances. Week start option of Sunday or Monday. Tabs are included for each month. Also included are yearly calendars for current year and next year.
Compact size daily planner, fully dated. Includes yearly calendars for current year and next year.




2 pages per day planner with tabs. Months are separated so you can insert pages for notes, diary, etc, between months.




First page of each month is for Notes and Plans, and includes the current plus 2 additional months mini calendars. The next 2 pages are the monthly spread.




The daily spreads within each month include appointment time slots 7:00am through 6:00pm, plus To-Do and Notes sections.




Page size is 4.25" x 6.75". High quality, heavy weight, ultra smooth paper. Acid-free. Paper produced from FSC certified forests.




Punched with 2 groups of 3 holes spaced 3/4" (19mm) with 2" (51mm) between the groups to fit the Franklin Covey Compact size binders, and others.