FCS Automobile Fuel & Maintenance Log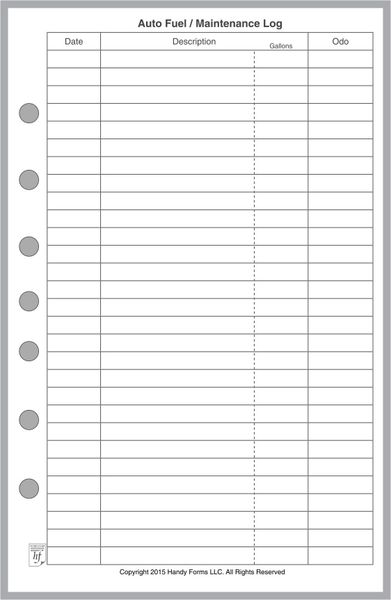 FCS Automobile Fuel & Maintenance Log
If you are a careful keeper of records, like fuel and maintenance records for your car, then this form is for you. There are columns for the date, the maintenance description (or price per gallon), and the odometer reading. The reverse side of the form is a simple lined notes page. The pages are half letter size or 5.5" x 8.5".
Automobile fuel & maintenance records for the Franklin Covey Classic size notebook and others.




Record date, description, and odometer reading.




Punched with 7 holes to fit the Franklin Covey Classic notebook, DayTimer, Day Runner, and others.




50 sheets per pack

Page size is 5.5" x 8.5". Printed on very high quality heavy weight paper (120 gsm), made from FSC certified forests, with a silky smooth writing surface.