FPL Daily Planner, 1 Page per Day, 2 Pages per Month (Style AS)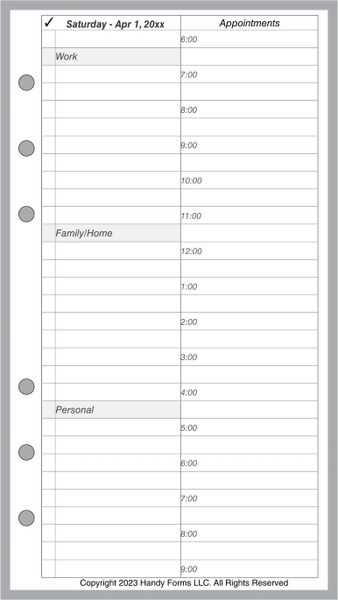 FPL Daily Planner, 1 Page per Day, 2 Pages per Month (Style AS)
This is a complete daily and monthly planner insert for the popular Filofax Personal notebook and others. The page size is 3.75" x 6.75". It is fully dated. Each day is on one page with time slots from 6:00AM to 9:00PM, and optionally includes US Holidays and observances. The daily pages are grouped into months. Each month begins with an overview & summary page followed by the monthly spread, followed by the first day of the month. Each monthly set has a durable plastic tab. On the monthly spread the week begins on Sunday. Available for 3, 6, or 12 months, and you can specify any starting month. The standard To-Do categories are Work, Family/Home, Personal (see image above). You can specify alternate categories and can leave categories blank. See the image above in which the first category is blank. This would be entered as blank, Family/Home, Personal for example.

Pocket size daily and monthly planner, fully dated.




2 pages per month monthly planner with tabs. 1 page per day.




Includes yearly calendars for current year and next year.




Page size is 3.75" x 6.75". High quality, heavy weight, acid-free, ultra smooth paper produced from FSC certified forests.




Punched with 6 holes spaced 3/4"-3/4"-2"-3/4"-3/4" (19-19-51-19-19mm) to fit the Filofax Personal size binders, and others.