A6 Payment / Expense Record and Check Register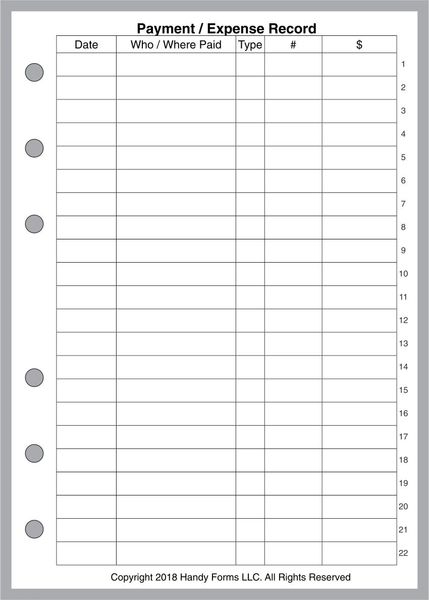 A6 Payment / Expense Record and Check Register
NOTE: THERE ARE 2 DIFFERENT SIZES CALLED A6. THIS PRODUCT IS THE TRUE ISO STANDARD A6 SIZE 4.13" X 5.83" (105mm x 148mm). THE OTHER A6 SIZE CAME FROM CHINA IN THE LAST FEW YEARS, AND IS NOT COMPATIBLE WITH THIS PRODUCT. IF YOU HAVE A CHINESE A6 BINDER, YOU MAY NEED OUR FILOFAX PERSONAL SIZE (FPL). PLEASE SEE THE ILLUSTRATION COMPARING THE 2 SIZES.
Expense record and check register for A6 size notebooks.




Record date, payee, type of payment (check, credit card, debit card, cash), check#, credit card #, amount paid, balance forward, and additional information



Punched with two groups of 3 holes with 38mm (1.5") between the groups to fit A6 notebooks. 


50 sheets per pack




Page size is 4.13" x 5.83" (105mm x 148mm). Printed on very high quality heavy weight paper (120 gsm), with a silky smooth writing surface.
If you carry an A6 size organizer, this handy planner insert will help you keep track of payments and expenses, and can also be your check register. With the extra space on the back for notes, you can record business information such as expense purpose, receipt references, people present, etc.