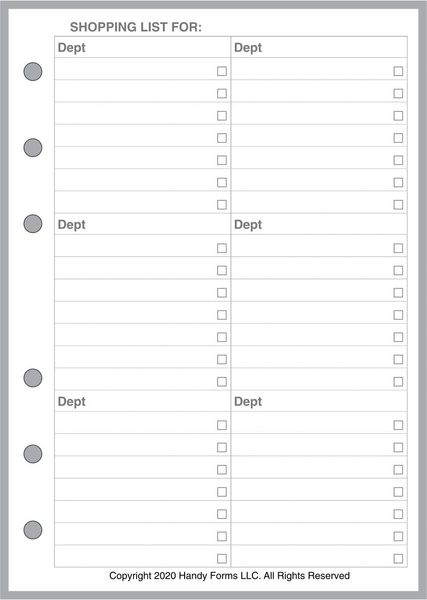 A6 Shopping List
NOTE: THERE ARE 2 STANDARDS FOR A6 HOLE SPACING. PLEASE CHECK THE DISTANCE BETWEEN THE 2 GROUPS OF 3 RINGS IN YOUR BINDER. IT WILL BE EITHER 38mm (1-1/2") OR 51mm (2"). CHECK THE APPROPRIATE OPTION WHEN ORDERING.
Shopping List pages for A6 size notebook.




Punched with 2 groups of 3 holes with 38mm (1.5") or 51mm (2") between the groups to fit A6 notebooks. Hole spacing is 19-19-38-19-19mm or 19-19-51-19-19mm.




50 sheets per pack




Page size is 4.13" x 5.83" (105mm x 148mm). Printed on very high quality heavy weight paper (120 gsm), with a silky smooth writing surface.
Create your shopping list with this handy tool. Identify the store and department, list the items to purchase and check them off as you shop.