A6 To-Do Checklist with Priority and Due Date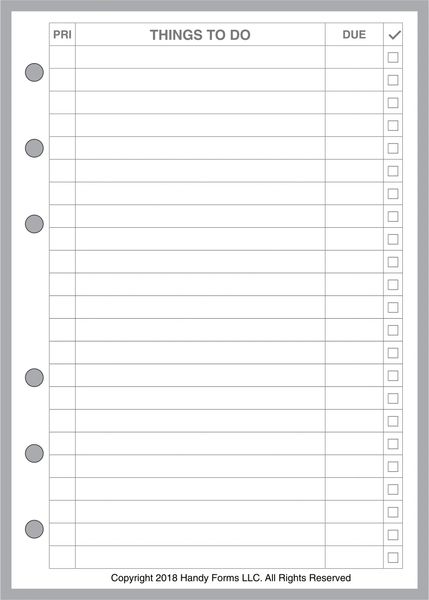 A6 To-Do Checklist with Priority and Due Date
NOTE: THERE ARE 2 DIFFERENT SIZES CALLED A6. THIS PRODUCT IS THE TRUE ISO STANDARD A6 SIZE 4.13" X 5.83" (105mm x 148mm). THE OTHER A6 SIZE CAME FROM CHINA IN THE LAST FEW YEARS, AND IS NOT COMPATIBLE WITH THIS PRODUCT. IF YOU HAVE A CHINESE A6 BINDER, YOU MAY NEED OUR FILOFAX PERSONAL SIZE (FPL). PLEASE SEE THE ILLUSTRATION COMPARING THE 2 SIZES.
To-Do List for the A6 size notebook.



Punched with two groups of 3 holes with 38mm (1.5") between the groups to fit A6 notebooks. 


50 sheets per pack




Page size is 4.13" x 5.83" (105mm x 148mm). Printed on very high quality heavy weight paper (120 gsm), with a silky smooth writing surface.
If you depend on an A6 size organizer to keep yourself on track, this To-Do List planner insert from Handy Forms is just what you need. Record each item you have to do. Assign a priority and a due date/time, then check it off as you complete the task. There are 50 sheets in a packet.