HPP Daily & Monthly Planner, 2 Pages per Day (Style S1)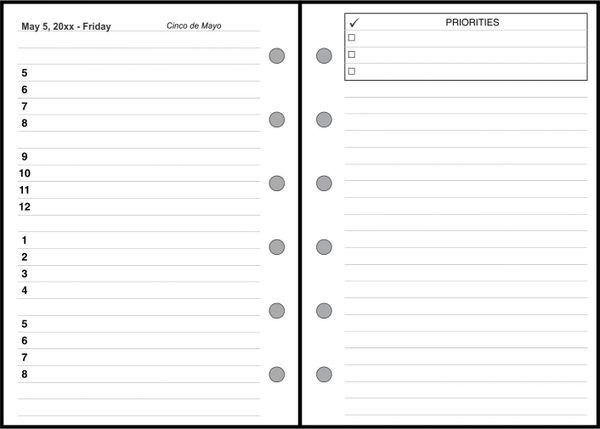 HPP Daily & Monthly Planner, 2 Pages per Day (Style S1)
The Pocket Plus format offers an improved pocket planner, with inserts measuring 3-1/2" x 5". It is punched with 6 holes, spaced 19mm (3/4").
This style offers a simple left-right spread layout with appointment times from 5am to 8pm. The right side provides a section for priority tasks with check boxes, plus space for notes.
It comes in monthly sections. The first page of each section is a monthly "Planning and Priorities" page with space for notes and showing the current and following 2 months. The next left-right spread is the monthly calendar. The daily spreads follow the monthly.
The style is available with 6 column months or 8 column months. For 6 column months, Monday-Tuesday-Wednesday are on the left, and Thursday-Friday-Saturday/Sunday are on the right with Saturday and Sunday sharing the right-most column. For 8 column monthly style, the first 4 days of the week are on the left, with the last 3 days on the right plus a lined column of notes.
The week starting day may be Sunday or Monday for the 8 column monthly option, and Monday for the 6 column option.