Adjustable Hole Punch - A5, Personal, Pocket, etc.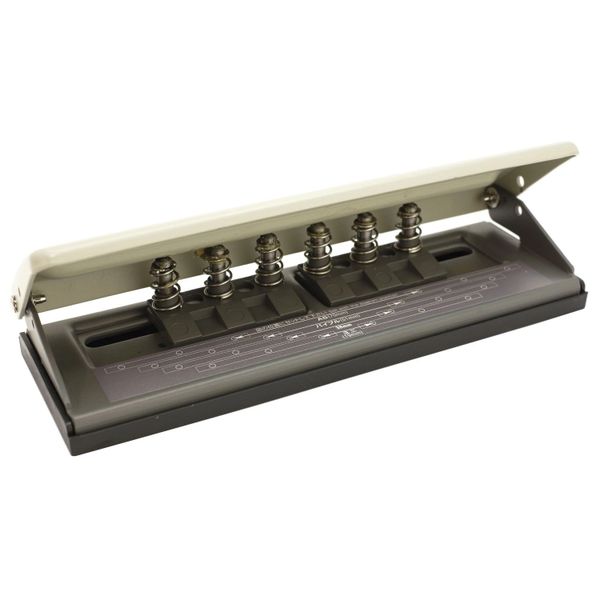 Adjustable Hole Punch - A5, Personal, Pocket, etc.
NOTE: We only have 2 of these punches left, and they do not come in the original box. They are new and unused, but the boxes were destroyed in shipping from Japan.
Adjusts for Filofax, Franklin Covey, DayTimer, Day-Runner, Quo Vadis, and others
6 Hole Punch, 2 adjustable groups of 3. Spacing can be set to 19mm (3/4"), 38mm (1-1/2"), 51mm (2"), and 70mm (2-3/4")
All Steel Construction
Punches up to 8 sheets, depending on paper thickness
Hole diameter is 5.5mm (slightly less than 1/4"), and the holes are set in 4mm from the edge of the paper.
If you love the Filofax, TMI, Kikki-K, Mulberry notebooks -- actually any of the small format 6 ring binders, this is the punch you have been looking for. It is high quality, durable all steel construction, Japanese made. The hardened steel punch dies in this little beauty will punch 7-8 sheets of 75 gsm (20#) paper, and 6 sheets of a high quality 105 gsm (28#) paper. It really will punch that many sheets perfectly and cleanly. It will punch pages for the Filofax A5, Personal, Pocket and Mini hole configurations; the Mulberry Agenda and Planner; Franklin Covey Compact and Pocket; DayRunner Size 3; Day-Timer Portable and Jotter; etc. In fact, this punch works for any of the popular organizers which require two groups of 3 holes with 19mm (3/4") spacing. It will even work for the Filofax Deskfax size, although you'll have to punch the sheets twice since the Deskfax has 9 rings. The spacing between the groups of 3 holes can be easily set to 4 different configurations: 19mm (3/4") - 6 evenly spaced holes, used for the Filofax Mini and Pocket sizes; 38mm (1 1/2") - used for Mulberry Agenda (A6), and others; 51mm (2") - used for Filofax Personal and Deskfax, Mulberry Planner (A5), and others; 70mm (2 3/4") - used for Filofax A5.