RingBook Personal Size Binder - Frosted Cover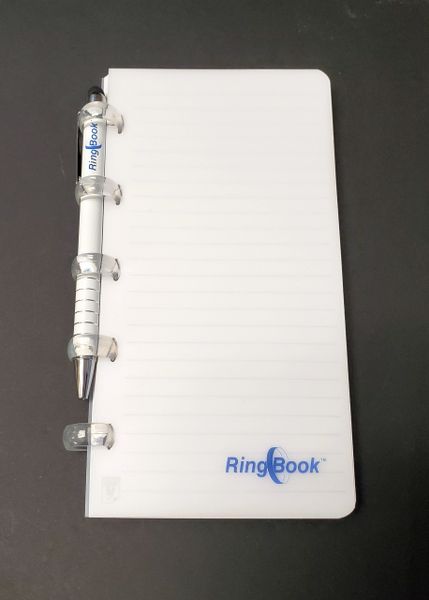 RingBook Personal Size Binder - Frosted Cover
We are proud to announce the newest addition to the Handy Forms' product catalog, the RingBook Binding System. This family of binders and accessories is based on a unique binding system using rings. Pages are punched with a proprietary shaped slot, allowing pages to turn freely and to be easily inserted and moved. With continuous smooth rings, the notebook can be opened a full 360 degrees. The covers are made from a durable flexible translucent plastic. This notebook includes a pen which can be inserted conveniently into the rings as shown in the photograph. Also included are 40 sheets of high quality Handy Forms' lined note paper.
This item is the popular Personal size, with pages measuring 3.75" x 6.75". The cover is the same size as the pages. All Handy Forms' Personal size inserts are now available with the unique RingBook punch option.
The rings are injection molded polycarbonate and will not chip or crack; they are practically indestructible. You can choose from 4 different size rings depending on the maximum number of pages you expect to have. If you outgrow your initial rings, you can replace them with larger rings to expand the capacity.